A POCAS HORAS DEL DEBUT DE INDEPENDIENTE SANTA FE ANTE THE STRONGEST, EN LA VERSIÓN DE 2017 DE LA COPA LIBERTADORES, EN SDM REPASAMOS SUS ENFRENTAMIENTOS FRENTE EQUIPOS DE BOLIVIA.
El principal objetivo del cuadro de Gustavo Costas será la Copa Libertadores para este 2017, donde llega con el rótulo de ser el último campeón de Colombia, hecho que genera mayor expectativa para ver como responderá ante el torneo de clubes más importante del continente.
Es por este motivo que en SDM hacemos un repaso de los enfrentamientos entre Independiente Santa Fe y equipos bolivianos, recordando que será The Strongest, uno de los más grandes de aquel país, el primer escollo que tendrá el equipo bogotano:
1961- Copa de Campeones de América
30 de abril – Jorge Wilstermann 3 –

 2 

Santa Fe
El primer duelo de los bogotanos ante un equipo boliviano. Este encuentro se desarrolló en Cochabamba, como parte de los cuartos de final de aquel certamen (lo que hoy en día es la Libertadores), con un duelo que dejaba vencedor a los bolivianos, quienes a través de Renán López en 2 oportunidades y César Sánchez, derrotaban en un duelo interesante a Santa Fe, que con Osvaldo Panzuto y Roberto Castro descontaba la serie.
7 de mayo – Santa Fe 1 – 0 J. Wilstermann 
La revanacha, disputada en El Campín, no sería nada fácil para Santa Fe, que por medio de un autogol del jugador Óscar Claure, al minuto 26, dejaba la serie en tablas y por definir. Lo curioso en este caso es que como en aquella época no existían aún los cobros desde el punto penal, se hizo un sorteo, donde se introdujeron 2 papeles con el nombre de cada equipo en ellos y fue el elenco bogotano, quienes tendrían la oportunidad de avanzar a semifinales y medirse al Palmeiras.
1967 – Copa Libertadores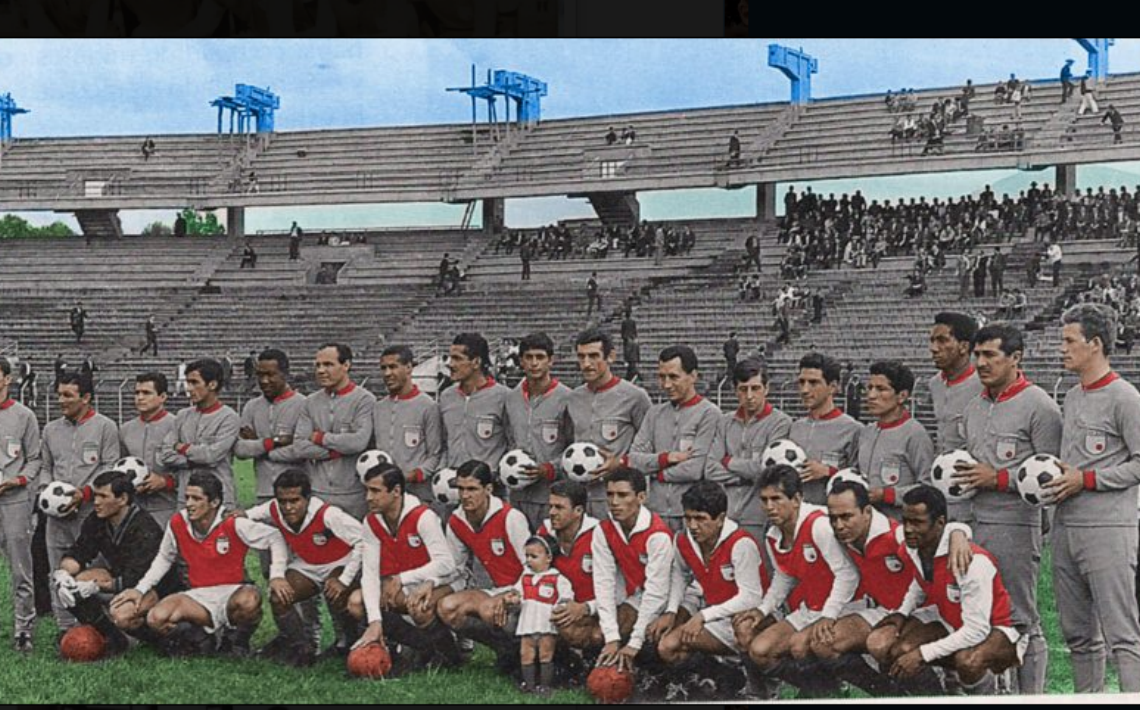 24 de abril – 31 de Octubre 6 – 2 Santa Fe 
Un día difícil para los «Cardenales», quienes visitaban La Paz por primera ocasión, llevándose un resultado final nada grato. El 31 de Octubre (elenco que disputa hoy día la 3ra categoría en Bolivia) sacaba, con anotaciones de Edgar Quinteros en dos oportunidades, Hugo Yepes, Jaime Ballivian y René Rada, un importante 6-2 a su favor. Aquel día, Efraín Padilla y el histórico Alfonso Cañón, descontaban para los bogotanos.
28 de abril – Bolívar 2 – 2 Santa Fe 
La suerte sería diferente un poco para los santafereños, dado que sacaban un importamte empate a 2, nuevamente en La Paz, esta vez con goles de Willis en contra y de Efraín Padilla, mientras que Álvarez y Abdul Aramayo, igualaban un emocionante partido.
7 de mayo – Santa Fe 2 – 0 31 de Octubre
Los «Cardenales» regresaban a la capital, nuevamente para enfrentarse a los equipos bolivianos de su grupo (donde estaban también Racing y River de Argentina, además del DIM). Una victoria sería un gran premio en aquella oportunidad, cuando los artilleros, Hernando Piñeros y Efraín Padilla sentenciaban un vistoso duelo.
10 de mayo – Santa Fe 1 – 2 Bolívar
Una derrota inesperada, dado que parecía que los bogotanos estaban motivados, tras la victoria 72 horas antes en el mismo gramado del Campín ante el 31 de octubre. La historia no se dio como pensaban y con goles de Ramiro Blacut y Abdul Aramayo dejaban casi en silencio a los capitalinos, mientras poco servía el descuento de Alfonso Cañón, de los destacados de aquella Copa.
2006 – Copa Libertadores
Tuvieron que pasar casi 39 años para que Santa Fe se volviera  enfrentar a una escuadra de Bolivia. Para esta ocasión sería en el grupo 2 de aquella Libertadores, donde los bogotanos (quienes llegaron tras eliminar al Defensor Sporting uruguayo en fase previa), compartían grupo con Estudiantes de La Plata, Sporting Cristal (rival para este año nuevamente en fase de grupos) y el Bolívar.
15 de febrero – Santa Fe 2 – 2 Bolívar 
Un encuentro que prometía bastante, principalmente porque ambos venían de vencer en la primera jornada, no decepcionó en absoluto, dejando una igualdad 2-2 entre colombianos y bolivianos. En aquel encuentro, Bolívar sorprendió y con tantos de Limberg Gutiérrez de tiro libre y Martín Menacho, adelantaron a los de La Paz, aunque un penal del goleador Léider Preciado y un buen disparo de zurda de David Montoya salvaron el empate aquel día en Bogotá.
[youtube https://www.youtube.com/watch?v=WGqv5I-JueA]
28 de marzo – Bolívar 1 – 0 Santa Fe
Por la quinta jornada de la fase de grupos, Bolívar recibió en el Hernando Siles al «Expreso Rojo», en una lluviosa noche, que terminaría siendo favorable para los locales, que con una anotación de Carmelo Angulo, se llevaron tres puntos, que finalmente no les alcanzaría, debido a que Estudiantes los derrotó en la última fecha, mientras que, a pesar de la derrota, Santa Fe venció en casa a Sporting Cristal y avanzó a los octavos de final en dicha ocasión.
2016 – Copa Libertadores
Tras un año de ensueño para Santa Fe, debido al título cosechado en la Sudamericana 2015, llegaba la Libertadores al año siguiente, donde entró por ser el campeón del otro gran certamen de la CONMEBOL, ingresando a la fase previa, donde Oriente Petrolero, conjunto que llegó como tercero del acumulado del año anterior en Bolivia, lo esperaba.
4 de febrero – Oriente Petrolero 1 – 3 Santa Fe
Era hora de lucir y jugar como el campeón de la Sudamericana casi aún en la memoria de los hinchas «Cardenales», quienes observaron como su equipo derrotó de buena manera por 3-1 al Oriente Petrolero. Aquel día sería Carlos Ibargüen en dos oportunidades, sumado a un cabezazo de Yerry Mina, quienes daban una gran victoria a domicilio en Santa Cruz de la Sierra más precisamente.
[youtube https://www.youtube.com/watch?v=MDf5aB6fk5w]
11 de febrero – Santa Fe 3 – 0 Oriente Petrolero
El duelo de vuelta no sería muy distinto, los bogotanos presionando y dominando en gran parte del mismo, encontrando su gran fórmula por medio de la cabeza de Yerry Mina, quien ya daba pistas de su producción goleadora en los remates aéreos y hacía el doblete, posteriormente acompañado de una sutil definición cerca del final de Anthony Otero, quien sellaba el pase de Santa Fe al grupo 8 de esa Libertadores, donde enfrentó a Corinthians, Cobresal y Cerro Porteño.
[youtube https://www.youtube.com/watch?v=iIwc47s0Szs]