CON UN GOL DE LUCAS VERISSIMO CERCA DEL FINAL, EL CONJUNTO DEL SANTOS TERMINÓ IMPONIÉNDOSE POR 3-2 ANTE UN SANTA FE, QUE SE MOSTRÓ RESISTENTE, AUNQUE NO LE ALCANZÓ PARA EL EMPATE.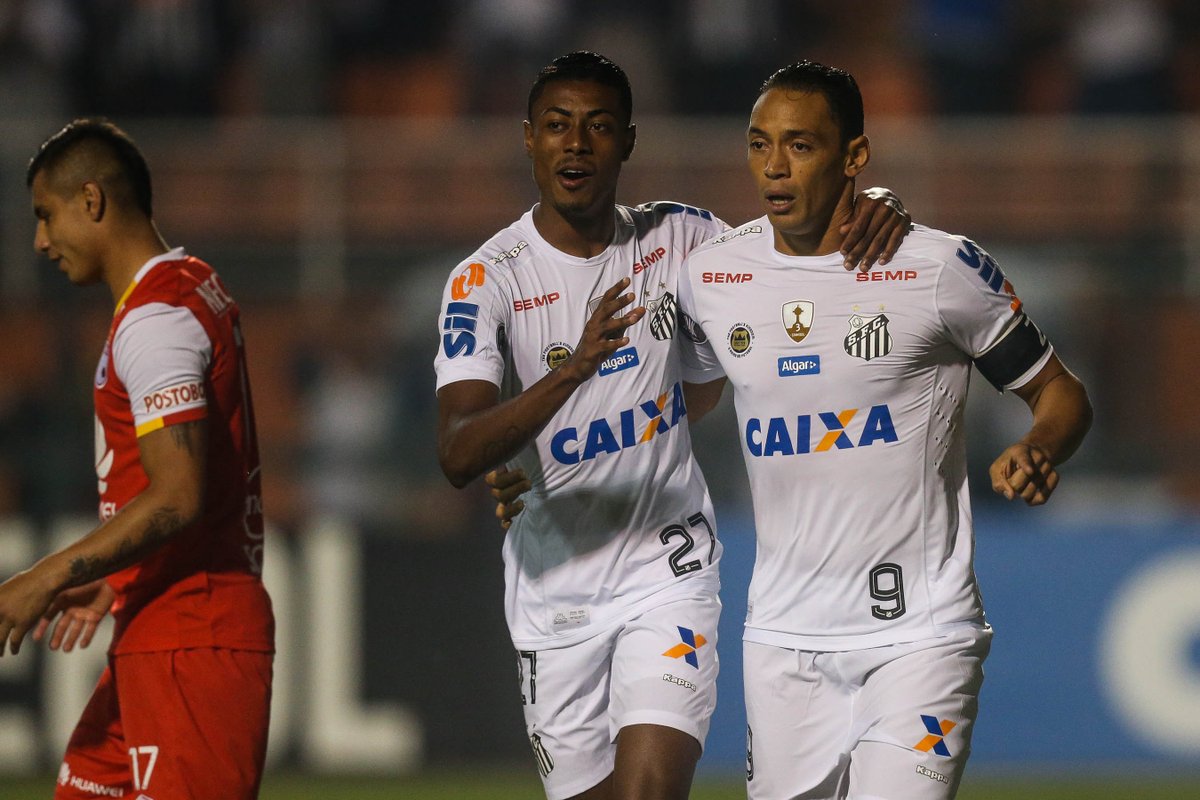 En un encuentro, que estuvo pasado en demasía por la lluvia, el Santos de Brasil sacó una importante victoria por 3-2 frente al elenco de Santa Fe, que por varios pasajes del partido tuvo buenas oportunidades de marcar, aunque, al final, no logró sacar el empate y quedó condicionado para las últimas dos jornadas.
Una primera mitad bastante entretenida para la buena afición brasileña, casi 30.000, que asistieron al estadio Pacaembú, que se deleitó con un juego movido, de buen fútbol y con goles. Precisamente la cuenta se abrió en primera medida para los dirigidos por Dorival Junior, que por medio del experimentado Ricardo Oliveira, quien al minuto 4 recibió un buen pase del volante Lucas Lima y tuvo que definir nada más frente a Castellanos, para iniciar una buena jornada de goles. El juego continuó con ambos luchando por el balón y tratando de sorprender al contrario, dado que, al minuto 34, un disparo de Jonathan Gómez, que atajó Vanderlei, le dejó el rebote a Johan Arango, quien sorprendió y silenció al estadio entero, estableciendo el 1-1. La alegría «Cardenal» duró poco, tras un buen toque de balón entre los jugadores brasileños, que u minuto después, a los 35, consiguió por medio de Vitor Bueno el 2-1. Aunque este no sería el marcador para ir al descanso, dado que Baldomero Perlaza apareció a los 41 minutos, para cabecear un gran centro que envió desde la derecha Arango y concretó el 2-2, para poder ir con un mayor alivio al receso.
En la segunda mitad, el encuentro a nivel general decayó, la lluvia se acrecentó y cayó con mayor fuerza, por lo que el juego brusco y el intento por superar el factor climático se convirtió en el mayor rival. Ambos equipos tuvieron algunos intentos, con Santos esforzándose por respetar su casa y con jugadores de recorrido, mientras Santa Fe, que mostró una buena cara en ofensiva, en la zona de atrás dejó muchos espacios, que por momentos podían corregir, aunque en otros se veía muy carente de un hombre referente. Cuando parecía que el juego finalizaría con una igualdad a dos tantos, en un tiro de esquina desde la derecha, el central David Braz le bajaría el balón a Lucas Veríssimo, quien empujó con su pierna derecha, más precisamente de borde externo y sentenció el triunfo del elenco «Peixe», a pesar de que Santa Fe terminó buscando llegar, de la mano principalmente del argentino Gómez, aunque no sería suficiente y así terminaba el juego.
Tras este encuentro y, recordando que The Strongest derrotó más temprano al Sporting Cristal por 5:1 en condición de local, la tabla de posiciones del grupo 2 de la CONMEBOL Libertadore, tras 4 juegos disputados, quedó de la siguiente manera:
1- Santos 8 pts (+3)
2- The Strongest 7 pts (+4)
3- Santa Fe 4 pts (0)
4- Sporting Cristal 2 pts (-7)
De esta manera, la próxima jornada en el grupo, que se jugará el próximo 17 de mayo, contará con los siguientes encuentros:
The Strongest vs Santos F.C.
Sporting Cristal vs Santa Fe
A continuación repasamos las alineaciones de ambos equipos, además de los cinco tantos que se presentaron en este encuentro:
Santos F.C. : 

Vanderlei, Ferraz, L. Veríssimo, D. Braz, M. Ribeiro (Copete 45´), Thiago Maia, Renato, B. Henrique, V. Bueno (V. Hernández 67´), L. Lima (Cleber 91´), R. Oliveira.
Santa Fe: Castellanos, J. Roa, H. Urrego, J. Moya, D. Mosquera, B. Perlaza, S. Salazar, L. Balanta (A. Plata 81´), J. Gómez, J. Arango, Stracqualursi (D. Céter 71´).
Erro da defesa colombiana, assistência de Lucas Lima e gol de Ricardo Oliveira: Santos 1×0 Santa Fepic.twitter.com/CGxAFdFaCI

— Goleada Info (@goleada_info) 5 de mayo de 2017
//platform.twitter.com/widgets.js
Jonathan Gómez acertou a trave e Johan Arango empatou: Santos 1×1 Santa Fe pic.twitter.com/rnacSHnUXk

— Goleada Info (@goleada_info) 5 de mayo de 2017
//platform.twitter.com/widgets.js
Segunda assistência de Lucas Lima no jogo (a 10ª no ano) e gol de Vitor Bueno: Santos 2×1 Santa Fepic.twitter.com/ZJruMW4LXo

— Goleada Info (@goleada_info) 5 de mayo de 2017
//platform.twitter.com/widgets.js
Perlaza deixa tudo igual no Pacaembu: Santos 2×2 Santa Fepic.twitter.com/PELQhvLfZr

— Goleada Info (@goleada_info) 5 de mayo de 2017
//platform.twitter.com/widgets.js
David Braz ajeita e Lucas Veríssimo desempata: Santos 3×2 Santa Fe pic.twitter.com/OEW8l7gXuT

— Goleada Info (@goleada_info) 5 de mayo de 2017